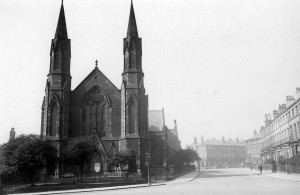 Belvidere Road Church is an independent Reformed Baptist church. We came into being in 1950 and have sought to exalt Christ and hold forth the word of life to Liverpool ever since. We are a family of believers seeking God's glory and His people's welfare.
Ours is the historic Christian message of salvation by grace alone, through faith alone, in Christ alone.
Historically, Belvidere has been blessed with the very best biblical teaching. In the past the church has been pastored by well-respected Bible teachers such as Stuart Olyott and Erroll Hulse.
Its present pastor, Ian Higham, has a passion to faithfully declare God's life-changing Word to the people of today. We seek God's glory by increasingly conforming our lives, our families, our church to Scripture – and by preaching His glorious good news to the ends of the earth.
While the Bible is our final authority in all things, we subscribe to the 1689 Baptist Confession of Faith as a summary of our fundamental beliefs.
We hope you enjoy getting to know us, and pray that we may be a blessing to you in Christ.